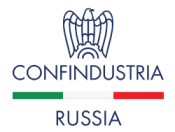 REGISTRY INTERNATIONAL
Registry International is the project for foreign companies with the aim of encourage the creation of partnerships and import / export programs with Italian companies and networks.
It is a simple and fast gate that facilitates searching for partners, sharing ideas and projects, and matching demand and supply of goods and services within the International Network of Confindustria.
The "Registry International" pilot project, launched by RetImpresa in collaboration with Confindustria Est Europa and Confindustria Russia is allowing member companies operating abroad to start and/or develop alliances and internationalization paths in a reliable and secure digital environment, made with the blockchain technology and the involvement of the Association System, exploiting the potential of the platform RetImpresa Registry.
On Registry you can find business ideas, proposals and projects of corporate companies, SMEs and startups open to collaboration.
What are you waiting for? If you are a foreign company or are already member of the International Representations of Confindustria, and you want to create your own international digital network with Italian companies and networks, this is an opportunity that cannot be missed.
Sing in to Registry International through the following button